Escuela de Liderazgo Universitario
The University Leadership School (ELU), based at the Francisco de Vitoria University, is an educational institution that offers a leadership training program for outstanding university students. The program does not focus on the acquisition of knowledge or technical skills, but on the development of essential capabilities in those who are called to lead fundamental changes to improve the world and contribute to social change.
The ELU Leadership Training Program (LTP) consists of nine different modules and two training weekends per year. Este itinerario se completa con un viaje académico anual y otras actividades. In order to carry out these activities, it is proposed the participation in committees formed by students, mentors and teachers where they work collaboratively;
The fundamental objective of PDL is to form a true judgment about the world and man and to acquire a method of judging reality that is fair to reality and to oneself. The program is not 'complementary' training in the sense of being optional or dispensable, but is considered essential for the targeted students;
The program also includes an accompaniment plan, with individual mentoring and committee work, which is coordinated in a very natural and organic way, with excellent results from the students' perspective. At the end of their four-year journey, students are prepared to exercise leadership in the service of society.
Carola Díaz de Lope-Díaz Molins y Juan Serrano Vicente

Escuela de liderazgo universitario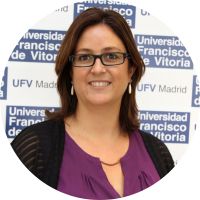 Carola Díaz de Lope-Díaz Molins
Carola Díaz is the Executive Director of Scholarships Europe and the University Leadership School at the Francisco de Vitoria University. Prior to this, she worked as a senior architect at Architects Edmiston Jones in Australia and founded Bo Lumen Architects. In addition, Carola Díaz has lectured in several programs and degrees at the Francisco de Vitoria University. He has also participated in seminars and research courses in several areas.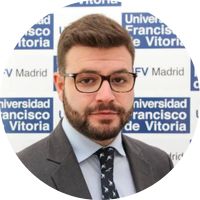 Juan Serrano is a professor and researcher at the Universidad Francisco de Vitoria, Madrid, where he also directs the Santander Europe Fellowships program and the University Leadership School. He teaches several subjects, including Social Psychology and Social Responsibility. His research focuses on Imagination and Possible Worlds, and studies on the Augustinian tradition. Juan is a philosopher and theologian trained at San Dámaso University in Madrid, and obtained his PhD in Humanities and Social Sciences at UFV in 2017.